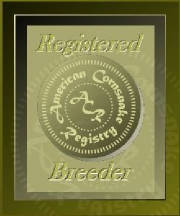 Members of the American Corn Registry
For Your Convenience: All thumbnails may be expanded to actual size of photo. Original will open in a new window...simply 'close' to return to Gallery Page.
For Your Convenience...we now accept Paypal.
We will be attending our last Expo of the year in Mississauga on November 18th. As always, free delivery is offered for any show we will be attending. A 50% deposit is required to hold your reservation with the balance due upon delivery to the show.
We are prepared to say goodbye to a few of our breeders this year. Although we hate to part with even one of these corns, we have to be reasonable. We have so many of our '05's who will be ready to enter into our breeding programs next year, that these breeders will not be used.

Rather than have the females lay slugs for us next year, we would rather see them go to breeders/pet homes where they can continue to thrive and perhaps possibly enter new breeding programs and projects.
Proven Adults for Sale - Click Here
As with every free website, we are limited to space. This year we have chosen to feature our Baby Gallery, complete with pics of the parents and the available offspring in each clutch on The Source. Here are a few of the hatchlings (pictured below) which are available to give you some idea of the variety you will find in our Baby Gallery...
Normal Stripes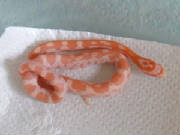 Opal Aztecs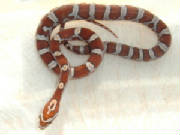 Crimsons